"PAIN IS INEVITABLE. SUFFERING IS OPTIONAL."
– Haruki Murakami
SUCCESS STORIES
Sometimes we can't avoid injury. However, we can do something to avoid suffering from it. As a corrective exercise, sports injury and medical fitness specialist, I've worked with various clients with different musculoskeletal and health conditions. I am glad to be given the opportunity to change their life. Here are just some of our success stories.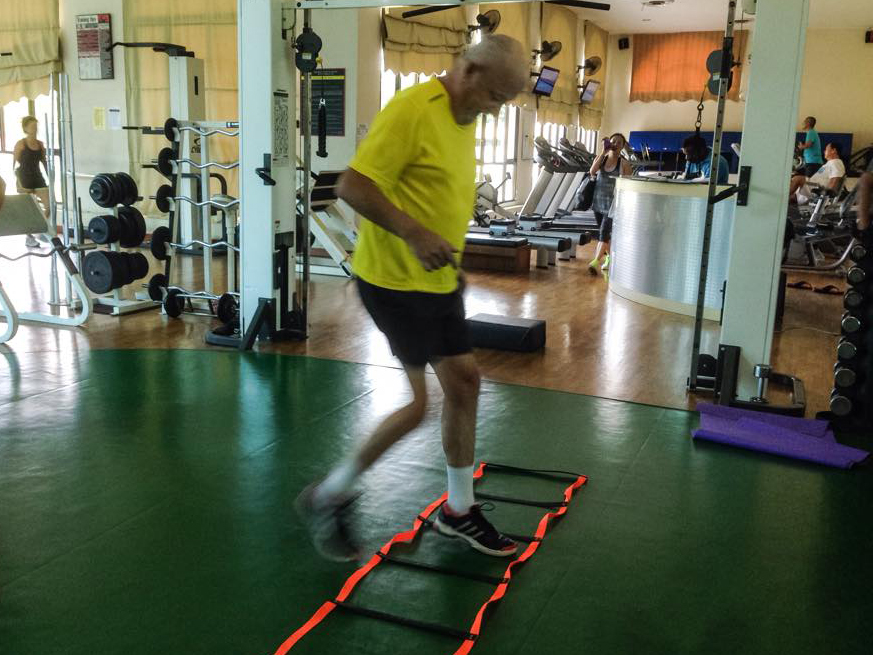 Philippe Basso
Regained his 'life' after his hip replacement.
Philippe had a total hip replacement in 2009. Due to his surgery, he had limited mobility at his hip and suffered muscle atrophy at the lower region of his body. Moving around and doing simple daily activities were a challenge for him itself. Philippe loves to play tennis but his hip has affected his game.
After 3 months of hip mobility and strengthening program, he is able to move around comfortably and felt that he was given a second freedom in life. His tennis game improved tremendously, lost 3KG of weight, gained strength and muscle mass at his lower and upper body, and he never felt better. The only regret he told me was not meeting me earlier.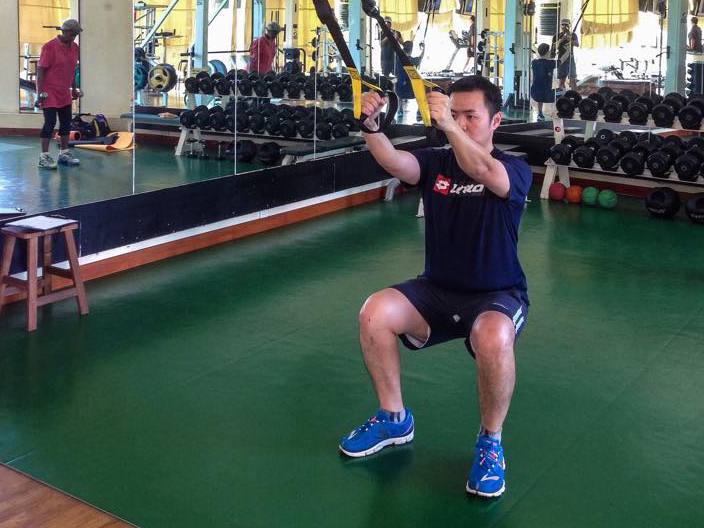 Khang Heng
Won his 1st Ping Pong tournament after rehabilitating from a torn ACL.
Khang Heng suffered a torn ACL on his right knee due to a football game. He underwent surgery and complaint of constant soreness and weakness on his affected knee. He had limited range of motion on his knees and had difficulty squatting without pain. Loss of proprioceptor at his knee has affected his balance and coordination.
I had the opportunity to work with Khang Heng together with his wife for 3 months. His program involved core, lower body strengthening and mobility exercises. At the end of our program, Khang Heng regained his confidence to play sports again. To my amazement, he even won 1st place in his local Ping Pong tournament! On top of his strengthen and sore-free knee, he lost 4KG and felt fitter and stronger than before.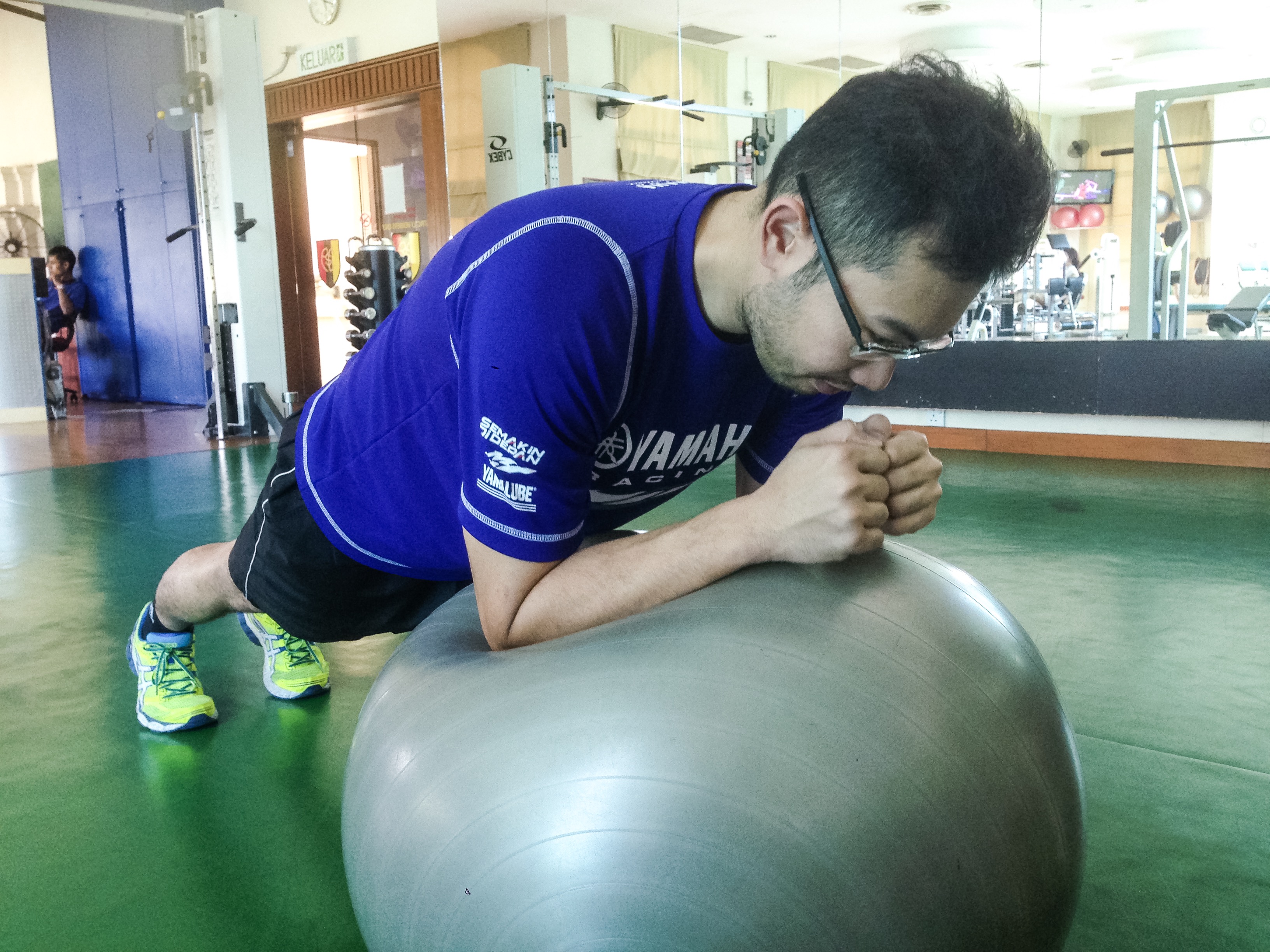 Chong Boon
Found a permanent solution to his lower back pain and became fitter and stronger in the process.
Chong Boon is a motorbike parts dealer and he injured his lower back from lifting heavy loads. He was diagnosed with slipped disc at his lower back and was in constant pain. He tried swimming and other exercises his doctor recommended to help alleviate his nagging pain, but the pain kept cropping back up. He complained that his lower back has affected his work and personal life.
Core stabilization, strengthening and lower body exercises were his main exercises. After 3 months, he is able to do push ups (his personal goal), lost weight and had minimal lower back pain incident ever since. Relieved that he is no longer living in pain, he has set himself a new goal – to tone up his body and start playing tennis.
Alishia Lim
Embraced strength training with proper eating strategies, and achieved her 'dream' weight within 3 months.
Alishia used to teach aerobic classes in the gym and she was a very active person by nature. After delivering her first child, she found it difficult to get back to her active lifestyle and started putting on weight. She tried cycling, swimming and running hoping to shed off her post-pregnancy weight but with little results. She also went on a 3 day diet plan she found from the internet but that didn't help much either.
I educated her that a balanced and proper nutrition for a longer term is more effective in weight management. I also encouraged her to take up a 3 month challenge where she will monitor her calories closely, choose the right food and do a mix of strength, HIIT and recovery exercises instead of just running, swimming and cycling. Like most females, I had a hard time convincing her that lifting weights is important to lose weight. Thankfully, she adhered to my program.
She was delighted that her weight started dropping every week as she steadily inch towards her desired weight and body fat percentage. During the 3 months period, her attitude towards exercise and diet changed for the better. Although it has been more than 3 months, she's still continuing with her routine and she feels leaner, more confident and stronger. What makes her happy most is that she has achieved her 'dream' weight that she never thought she could achieve in such short period.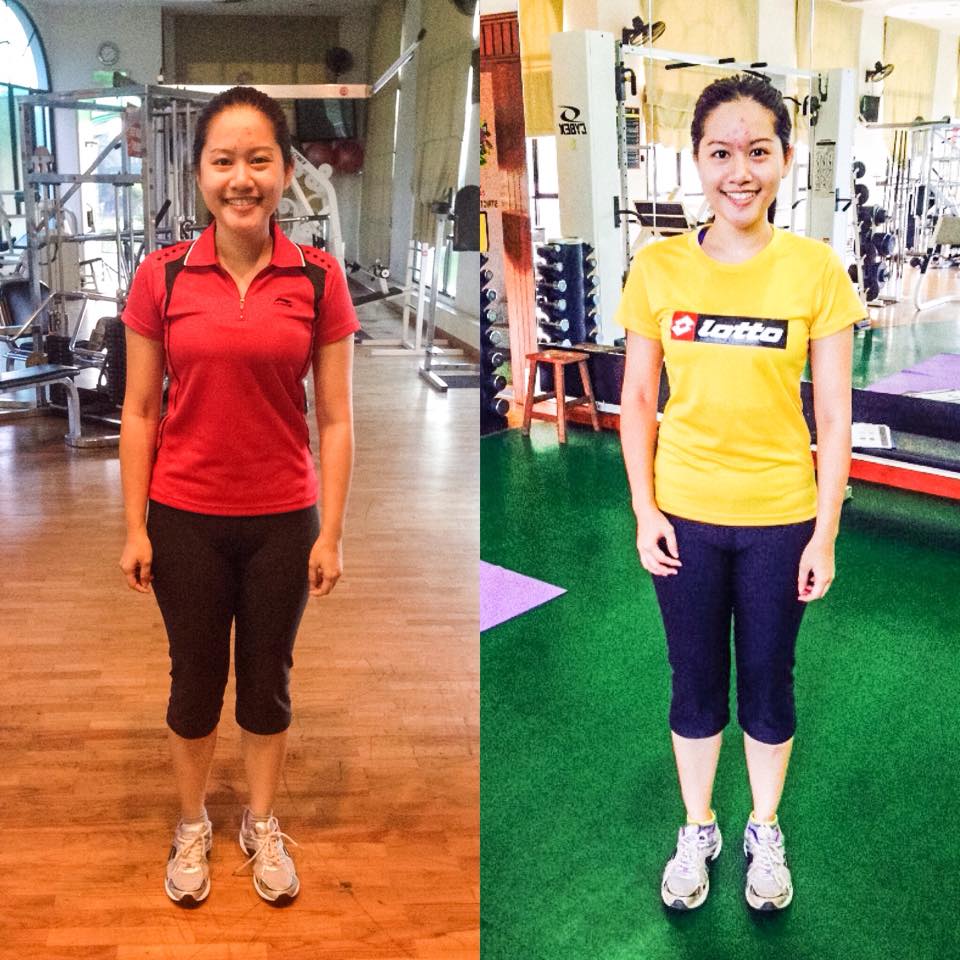 Ming Shuen
Had a positive experience with exercise and lost 5% body fat within 3 months.
When Ming Shuen and I first met, she admitted that she rarely exercise and was clueless when it comes to it. She was very nervous when she signed up with my personal training program, together with her fiancé. When I asked her why, she said that she had an impression that a personal trainer is someone who tortures their client – and I wouldn't blame her for feeling that way.
I empathized and assured her that there will be a comfortable transition and if she felt that she is being pushed too hard, I would listen. I started a program that was appropriate to her, kept it fun and was careful to avoid her from experiencing any negative feelings towards exercising. I also encouraged and motivated her when she felt overwhelmed.
2nd month in, her attitude towards exercising changed and she was a different person when we first met. She started pushing herself and took her own initiative to come to the gym on her own. She also ate healthier and became fitter.
At the end of the 3rd month, she lost 5% body fat and 3kg off the scale, just on time for her wedding. All of her friends and family complimented her on her new physique during the biggest day of her life. For that, Ming Shuen told me that that day was one of her most memorable moments in life.
Kenny Yeap
Became learner and fitter without hurting his lower back.
It's amazing how determination and commitment can change people. Kenny weighed in at over 90kg in September 2013. With his own effort and determination, he managed to lose the excess weight. However, Kenny had lower back problem and he wanted to get leaner without hurting his back.
I met Kenny sometime in mid 2015 and after 4 months of safe but intensive training with me, he has become stronger, fitter and leaner. What's most importantly is, he looks good and is pain and injury free.
At the end of his program, he lost 9KG and 8% body fat without using any drugs or supplements.
Andy
Lived a pain-free and active life after recovering from a bad slip disc at his neck.
Andy was diagnosed with bulging disc at the back of his neck (C4-C6 vertebrae) 15 years ago. In November 2015, the bulging disc ruptured and he suffered radiating pain from the neck to the back of his left scapulae and to the elbows. He also had restricted mobility and strength on his entire left shoulder and arm. He was constantly on leave due to pain and it has severely affected his daily activities.
Refusing surgery, he decided to train with me to strengthen his neck and shoulders. After reviewing his restricted movements as advised by his doctor, my goal is to first address the weakest link in the chain which was his core and back muscles that holds his spine in place. I also worked on his posture to ensure that he is not putting any additional stress on his already weak and injured back and neck.
Once I've established that, I slowly and carefully worked on strengthening his neck and shoulders, mostly using resistance bands. We also did shoulder mobility drills after every workout to restore his normal range of motion at his neck and shoulders. Apart from his regular strength and rehabilitation exercise, I advised him to swim and walk to speed up his recovery. I also taught him how to use the physio ball to self relieve his muscle sore and pain.
During our months of training, he visits his chiropractor occasionally to re-set his spine. Our strategy was to set his spine and strengthen it so that his posture stays corrected.
After 3 months, our program started showing results and he is off his pain killers. His training regime has changed to mostly compound strength training to reestablish basic functionality. Although he still complaints of occasional pain, his range of motion at his neck and shoulders has improved a lot since we started. He has also regained his strength and is able to perform his daily activities with little pain.
Though his injury is not entirely mitigated, Andy is still training diligently to offset his muscle imbalance (left and right arm) and to entirely eliminate his pain.
Andy's story has shown that with correct orthopedic and rehabilitation exercises, some serious cases such as a ruptured disc at the spine can help.
UPDATE: Late 2016, Andy is now pain free and is out and about his daily life!
John Morgan
Became his fittest and strongest self at the age of 69.
When I first met John, he told me that he was quite an active person who plays tennis and hikes often. He wanted to engage me as his coach to lose some weight and to tone up. He has never been into a gym all his life and this would be his first time. As an injury prevention specialist, I am quite familiar with common musculoskeletal issues faced by most seniors his age. During our first screening, getting John to do a basic squat was painful for his lower back and he also struggled with basic balance and stability movements. After identifying his weakest chain, we focused on the essential muscles and movements required prior to loading weights. After multiple coaching that involves progressing AND regressing, John regained his balance & coordination which is important for seniors. We began with his strength training program and worked on his goals, only after clearing the minimum functional movement test. Within 6 months, John lost 10KG since he started. He is able to do a squat with 50KGs, perform 20 push ups straight, hold a plank for more than 2 minutes along with other amazing feats, at the age of 69! He was never injured once throughout his training. His friends and family praised his transformation and complimented him. Of course, all of this wouldn't have been possible without John's self discipline and determination.
Geng Wai
Lost weight steadily without incorporating any drastic change in lifestyle.
Physical changes starts with the mind. Geng Wai came to me about 6 months back with hopes of losing weight and to live a healthier lifestyle. Due to scheduling constraints, we were only able to meet once a week. All I could do during the session was to educate and to establish healthy habits by encouraging him to take his own initiative to exercise more on his own, and taught him how to make gradual lifestyle changes. Although I wasn't physically around to push him all the time, his self determination led him to a successful weight loss of 21kgs. There were no special diet plan, secret abs busting workouts, no supplements and pills. Just plain scientifically proven way of losing weight. I evaluated his progress and capability every time we meet and designed a workout that pushed him to his limit, yet safe. Geng Wai had zero injury during his entire program and he has never felt stronger, fitter and healthier than before. Though there is still room for improvement, he has shown a steady decline in his waist line without the typical yo-yo effect most people get from drastic changes.
The take home message is never opt for a quick-fix. Real results take time and don't get overly obsessed with the perfect physique. What's more important is that you make a life long change in habit that is sustainable and healthy. We are looking forward of shedding off another 10kgs within the next 6 months.
Amy Aw
Returned to her active lifestyle after rehabilitating from a sprained MCL due to a skiing accident.
Amy sprained her right MCL ligament from a skiing accident in August 2017. Like any good advice, her doctor advised her to rest and gradually get back to sports. While that advice is commonly acceptable, allowing it to just 'heal' on its own without intervention usually does not end up well.
After her swelling subsided, we started off with SMR to promote blood circulation and to release tension at her quads and hips. Then, we worked on stabilizing her knee and hips and building strength. Since she's already seeing me, she also wanted to improve her stamina, physique and strength. While rehabilitating her injured knee, we also worked on strength training at other parts of her body at the same time.
As an active person, she joined group classes but always return home with a sore knee. Now, she is able to squat heavier without any discomfort at her knee. Plus, she is also able to hike, started Sky Yoga and attended Pound class without any fear of re-injuring or hurting her knee again.
⁠⁠⁠I was diagnosed with a slipped disks in 2013 & has been frequently bugged by lower back pain for the past two years. Then I met KE WYNN & decided to enroll in his PT program. With his professional help & expertise I managed to strengthen & build a better core. I also lost 4KG in 3 months and trim my waistline from 35″ to 31″. Ain't seen the "Six Pack Abs" yet but presently I couldn't be any happier with my physical condition!! "WHEN YOU LOOK GOOD, YOU DEFINITELY FEEL GOOD". And this is just the beginning.
Chong Boon
I started the online personal training programme in May and Ke Wynn has helped me to develop a workout programme tailored to my needs and also advised me on my food intake. Although being so far apart, he has kept me motivated to continue on with my workout with his constant follow up. Within a month I had visibly lost weight, gained definition and was eating much more healthily. I would definitely recommend Ke Wynn because he is a great personal trainer and he does it with passion.
Jack Ong
I had trouble losing my post-pregnancy weight after delivering my first baby. I only started exercising a year after and it was very difficult for me to get back to shape. As an active person, I've participated in many sporting events such as duathlons, runs, cycling, and exercised 3 times a week on top of that. I thought I was doing a lot and assumed that I was eating right but with little results. I felt discouraged.
Ke Wynn started educating me on proper nutrition and I started tracking my calories with an app he recommended. He also advised me to exercise correctly and designed a balanced program that includes weights, HIIT, endurance and recovery sessions. I felt motivated after the first month and exercised more regularly for an hour, 5 times a week. Rapid results started showing up and I hit my weight and body fat goal in just 3 months. I feel fitter, healthier, stronger and more confident especially when people started complimenting me. Hard work pays off!
Alishia Lim
I have never knew what I could do other than running, hiking, cycling and walking as my exercise routine. Getting myself to be healthier and physically stronger can be a challenge. The challenge I must admit would be the consistency and making workout a habit. Two months ago I signed up with a personal training coach. At first, it wasn't comfortable and a lot was needed to be done to find my pace. Then slowly things become better. I ate healthier and workout more these 2 months than the past. I was equipped with the knowledge and idea of simple meals and workout routine I could do. While I don't have any pictures of any drastic change in my physique to show you, I can tell you I have become better. Thank you Ke Wynn – Personal Trainer for the guidance and disciplining! (Yep! Coach is suppose to nag you too!)
Kee Sitt
Both of us have never been seriously working out in gym through a proper training or guidance. Indeed, with our marriage inching within few months, we felt the need to discipline ourselves to look good for our big day…:)
That was when we decided to sign up with Ke Wyn as our personal trainer…in our mind, beginning of TORTURE!!!!!! Ha ha…..
Much to our surprise and delight, the next 3 months of working out sessions under Ke Wynn have been very fruitful and enjoyable…indeed it became our bonding session towards our marriage and also towards a better healthier life…. now we look better , feel better and most importantly live better together!!
Thanks a lot to Ke Wynn for bringing FUN and JOY to working out in gym !!!
Khang Heng
Ke Wynn had changed my lifestyle to a healthier and fitter one. From once a man who can't even do 3 push ups, who now can do more than 10 easily. From once a man who can't run right, to one who just signed up to his ever first ever marathon.
I lost weight from 94.5 kg to now 87kg over a period of a few months.  It isn't fast for a reason. Injury prevention. Yes, he has corrected my posture and moved me up the intensity bar over a steady period.
Thanks Ke Wynn, looking forward for the many months to go and to a healthier lifestyle.
Andrew Ng
Wynn really have the knowledge to teach us the right way to exercise which avoid us from injury . This will enhance our confidence to work out more for the benefit of our health.
YC
I was 83kg and enjoyed my beer after tennis. But a friend of mine, Philippe Basso suggested that I should take up Gym and weight training. Best advice ever given by a French man! 6 months later I lost 10kg and built strength and stamina. I haven't been in a gym for 50 years- now it's hard to keep me out. Wynn has been a tremendous inspiration and his patient coaching has helped me build up my core muscles, my balance and my flexibility. I recommend Wynn's coaching method to anyone who wants to look good and feel good however "old " your years!
John Morgan
I started life as a keen sportsman, playing 1st team Rugby and cricket as a teenager and used to do serious circuit training and developed a fit stamina. After that my general fitness has declined over the years and have put on a few kilos. Recently I was diagnosed with early Parkinson's disease and the importance of exercise and core muscle stability suddenly became relevant to keep me mobile whilst battling a progressive disease like Parkinson. I have lived in Penang for many years and thru a recommendation from my friend John Morgan I was introduced to Wynn who has given me confidence and discipline to improve my balance and gait whilst improving my fitness. Best move I have made. Tq Wynn
Neil
I looked up Ke Wynn to help me with my lower back weakness and pain from a workout injury. Almost immediately, he was able to schedule me for a session to relief my back soreness. Just one hour in, I stood up with a stronger core and posture. Most importantly, I learned the right posture to my exercises to prevent injury. Ke Wynn is easy to work with and very knowledgeable in his work. Thanks Ke Wynn!
Jessie Chiang
After 6 months of extreme pain and discomfort, numerous medical tests and lots of different kinds of medicine, Ke Wynn finally helped me to begin the road to recovery via physiotherapy/trigger point release. Thank you.
Ally Muir
BEING INACTIVE IS NOT A SOLUTION. YOU TOO CAN LIVE A LIFE WITHOUT PAIN
If you're ready for a change, send us an inquiry and we will get back to you as soon as we can!