VIRTUAL COACHING
Experience medical fitness by an award-winning specialist or a dietitian at the comfort of your home
TELE-HEALTH MEDICAL FITNESS PROGRAM
PROGRAMS COVERED
Rehab Exercise Program for Sports Injury
Posture Correction
Exercise for People with Chronic Disease
Fitness & Wellness 
Dietitian
EFFECTIVE & CONVENIENT
Assessment and coaching sessions are conducted online via Skype or Zoom. Exercise prescribed is delivered through various media such as live demonstration, images and video. 
Individualized Program
Individualized home exercise programmingas well as instruction on proper exercise, stretching and self-administration of soft-tissue massage.
One-on-One Coaching
 Tele-health allows individuals to remotely access rehabilitation within their home environment, under the supervision of a highly qualified professional.
Education and Advice
Education on activity and lifestyle modification order to treat and prevent a large variety of conditions, injuries and illness.
Effective & Convenient
Health assessment, screening and referral for safe and effective program. Including initial assessment, ongoing assessments, and progress monitoring.
50 Minute Session
One-to-one Virtual Session
Full Assessment/Screening

Comprehensive coaching
30 Minute Session
One-to-one Virtual Session
Quick assessment/screening

Follow up session
VIRTUAL FITNESS PROGRAM
Losing weight and improving ones health takes a team effort. Most experts agree that losing weight is 80% nutrition and 20% exercise. This is why our unique virtual fitness program combines 2 different experts, making it one of the best and most effective virtual program there is:
Our program includes a certified Personal Trainer and a qualified Dietitian. Most exercises can be conducted at home with minimum equipment.
INITIAL 4 WEEKS PROGRAM
FITNESS COACHING
2 Virtual Sessions (50 min each)
* Exercise program for 4 weeks included.
NUTRITION COACHING
1 Virtual Nutrition Assessment (50 min)
3 Virtual Follow-up Assessments (30 min)
RM680
SUBSEQUENT 4 WEEKS PROGRAM
FITNESS COACHING
2 Virtual Sessions (50 min each)
* Exercise program for 4 weeks included.
NUTRITION COACHING
2 Virtual Follow-up Assessments (30 min)
RM480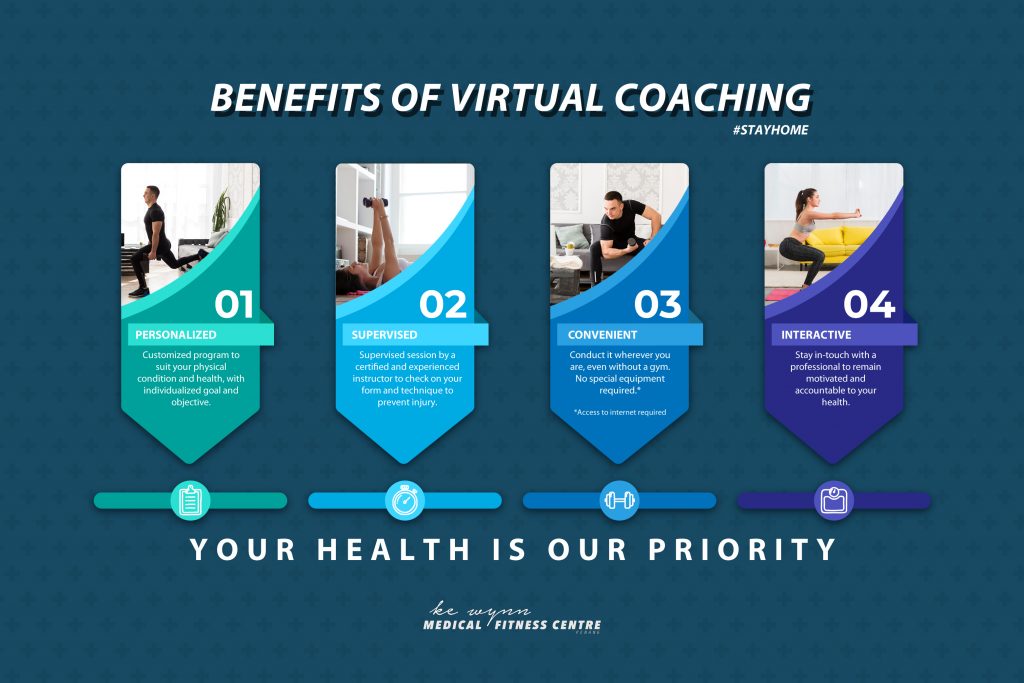 "My husband and I enjoyed the online session, it's almost as good as being in the studio. Ke Wynn makes hard work fun and has a way of lifting your spirits especially during this challenging time. He provided lots of clear instructions and modifications if needed. Great way to keep moving and stay positive. We are looking forward to our next online session."
"Happy to say my first web-based fitness session with Ke Wynn was a success. I had never tried zoom before. It turned out to be very simple to join (for free) on the morning of our appointment. When session time came around in the afternoon, I just keyed in some info he whatsapped to me and we could start.
No reduced effort for quarantine sessions–our zoom one was just as challenging as the in-person ones!
Ke Wynn could observe me during each part of the workout and give all the same helpful pointers and corrections. I shifted the angle of my laptop a few times, but this was simple to do and did not disrupt the flow.
I'm convinced I can work toward the same fitness levels this way as I did going to the studio. With the current uncertainty, how reassuring it is to know I can keep getting the benefits of the physical and mental challenge of training with Ke Wynn. I am a web-session convert, til regular life resumes."
"We continued our personal training sessions during the MCO with Alisha who has set up a productive virtual studio to conduct her classes. Definitely a vital and refreshing addition to the mundane lockdown lifestyle of sitting and eating most of the time. Alisha motivates, guides and pushes us that makes it no different from before! Believe me when we say the challenge is truly the same as in the studio…"
Tele-health is slowly becoming a trend worldwide. It is safe, effective and has been proven to deliver results and is highly beneficial for individuals who are unable to access us.
It allows you to work closely with our qualified specialist. They will provide one-to-one session specifically tailored to your individual needs. They will be able to ensure you are completing exercises correctly, provide progressions, advice and support you in working towards your identified goals.
Tele-health can help keep you motivated and moving at home. Having the support of a coach will help keep you accountable and motivated to continue your rehabilitation or exercise whilst you are confined to your home.
Don't miss out on this opportunity to be at your best condition, wherever you are. 
Got questions? Drop us an email below!