"If you have pain or injury, I can create a fitness program that work around it safely and effectively."
Most before and after photos show people achieving their ideal body by losing drastic weight or building massive muscles. While this is great, I am more concerned about your holistic transformation in areas of:
FUNCTIONALITY | HEALTH & FITNESS | IMPROVED STRENGTH AT YOUR WEAKEST LINK FOR INJURY PREVENTION
In recent years, the paradigm of the fitness industry has evolved from throwing a barrage of generic difficult exercises to building true fitness through corrective exercise principles. This ensures that people get the suitable exercises they need for optimum functionality and performance. Sadly, we still hear about people getting injured from improper form or overtraining to achieve their ideal body. That's why my goal for you is to extend your body's durability for the long run.
Although I specialize in rehab & corrective exercise, I also coach people to build strength and to lose weight – the safe way. If you have an injury, I am able to work around your pain. I also provide medical fitness services to people with common health conditions:
KE WYNN, LEE a.k.a "Wynn"
Exercise Director
Certified Personal Trainer (CPT) by American Council of Exercise (ACE)
Orthopedic Exercise Specialist Certified (ACE)
The BioMechanics Method Corrective Exercise Specialist (TBMM-CES)
Cancer Exercise Specialist Advance Qualification (CETI)
Certified Sports Injury Massage Therapist (Advance)
ASCM Exercise is Medicine Certified (Level 1)
Instrument Assisted Soft Tissue  Manipulation Certified (IASTM-OMT)
NAT Trigger Point Therapy Certified (Level 1)

American Heart Association (AHA) CPR/AED Certified

Ke Wynn strongly believes in a holistic approach when it comes to health and fitness. He is a strong advocate on eating right and getting enough rest on top of a good exercise. As someone who was once overweight, he aspires to get other people into shape, the right way. The opportunity to change people's life is what drives him forward as a coach and a corrective exercise specialist.
Ke Wynn, an author and an international award winning specialist currently owns and operates a private Medical Fitness Center in Penang. Apart from coaching, he also conducts workshops and actively contributes articles related to corrective exercise, fitness & health to online media and local magazines.
Awards:
The BioMechanics Method Corrective Exercise Specialist of the Year 2018
Media:
Author of Pain Free Fitness
Featured Writer for PurelyB
Featured Writer for Running Malaysia Magazine
Featured Writer for Cycling Malaysia

Personal Achievements:
Ironman 70.3 Finisher
Penang International Half Marathon Finisher
PD International Triathlon Finisher (Olympic Distance)
Viper Challenge Finisher
Penang International Duathlon Finisher
Reebok Challenge Finisher
Off Road Cycling Jamboree Finisher
Round Island Relay
Penang Round Island Cycling Challenge
Kedah Century (160KM) Ride
Spartan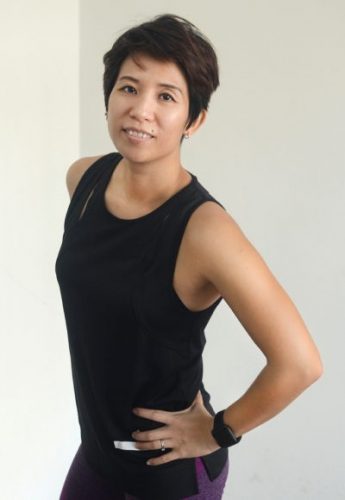 ALISHIA, LIM
Co-Founder
BARRE Instructor at CrossBarre
LesMills Instructor – Body Combat, RPM, Body Step
Personal Trainer
In her early 20's, Alishia started off her career in fitness as a certified LesMills instructor at major fitness clubs around Penang. Apart from conducting high-energy group classes, she was also one of the most sought after female personal trainer at Celebrity Fitness. Alishia took a short break from the fitness scene after delivering her first daughter. Now, she is back coaching and conducting Barre & HIIT group classes at CrossBarre together with Ke Wynn.
KIM YEE
Personal Trainer
Certified Personal Trainer (CPT) by American Council of Exercise (ACE)
Senior Fitness Specialist Program
Function First Pain-Free Movement Specialist

Kim Yee holds a degree in B.Sc. Life Sciences (specialise in Biomedical Science) from National University of Singapore. She loves playing sports since young. Nevertheless, shoulder and ankle injuries are also part of the side effect by being active. Certified Personal Trainer program has given her a new perspective on pain-free exercise. This motivated her to continue her effort to help more people in enjoying sports while living a pain-free life.
After CPT, she chose to specialise in Senior Fitness as she strongly believe in helping seniors in living an active and quality life while ageing gracefully. "Use it or lose it!" is her motto in conducting Senior Fitness Program.
DR. TERRENCE CHEE
Osteopath
Dr. Terrence Chee, the founder of The Osteopathic Approach, has been providing Osteopathy and Physical Therapy services within the fitness industry since 2010. A passion for holistic healthcare has led him to focus on comprehensive musculoskeletal optimization which includes aspects within Osteopathy, fitness, and nutrition in his daily practice. This results in services that are personalized and effective to all patients.
While regularly attending courses and reading to stay abreast of the latest knowledge and development, he enjoys educating and creating awareness on fitness, wellness and health topics. This cycle provides a great sense of encouragement and fulfillment as he continues to witness lives improve on a daily basis. Besides an exciting career as an Osteopath, Dr. Terrence spends his time reading, running and traveling.
Special interest in:
Neck, upper back and shoulder injury
DR. JAMES SUN
Traditional Chinese Medicine Practitioner
Dr James Sun ascended from a family of notable Chinese medicine practitioners in Hong Kong. He holds a degree in Chinese Medicine from Guangzhou University of Chinese Medicine, which is one of the top ranking medical school in the country that has produced some of the finest TCM graduates in the world. During his tenure, he studied tirelessly under the guidance of famous teachers and professors in order to be his best. Dr James' passion in medical technology has prompted him to take up additional internship in the oncology department where he had the opportunity to treat patients that were critically ill.
Today, Dr James is a distinguished TCM practitioner in Hong Kong with more than 10 years of experience and have administered over 100,000 treatments under his belt. He excels in orthopedic conditions, improvement of blood and meridian circulation, and muscle and bone alignment. He also specializes in acupuncture, delving into the area of beauty with acupuncture. He is a strong advocate of Chinese medical practice.
Medical Treatments:
Ligament sprains and muscle strains, spinal conditions, joint pain, fascia inflammation, bone alignment, arthritis, stroke, Parkinsons' Disease, Hemiplegia, headaches & migraine, anxiety, autism, etc.
Acupuncture Beauty:
Eye bags, double chin, loose facial muscle, dull & dry skin, acne, dark circles, edema, stretch marks, etc.
Don't Wait Any Longer. Start Forging Your Own Path Today!